Using data to inform your decision about whether or not to buy or sell real estate is crucial–especially in this era where media clickbait provides conflicting opinions that are often perceived as facts. Be careful where you get your news! Here's a round up of the Rhode Island real estate market taking a comparison look at Quarter 1 and Quarter 2 and how that compares to the past few years.
Rhode Island Real Estate Trends 
YTD 2023 Sales:
1st Quarter Single Family: $390k; total sales down 32%
2nd Quarter Single Family: $430k; total sales down 20%
1st Quarter Multi Family: $445k; total sales down 38%
2nd Quarter Multi Family: $470k; total sales down 39%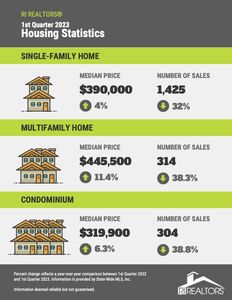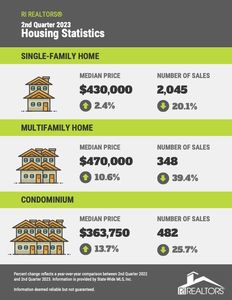 Comparing to pre-pandemic data from Q2 2019, residential home sales have seen significant gains: 47.3% median price increase for single-family homes, 56.8% for condos, and a remarkable 78.7% for multi-family homes. Our market is certainly on the move!
Rhode Island's Inventory Snapshot
Check out our inventory "heat map," revealing that the majority of RI boasts less than 1 month's supply of inventory. A "balanced" market generally has a 6 months supply. This scarcity emphasizes the competitiveness of our current real estate landscape.
Current Number of Single-Family Homes Active/Coming Soon: 895
YTD Median Sale Price Single Family: $423k (2022 median sale price was $401k)
Current Number of Multi-Family Homes Active/Coming Soon: 158
Median List Price for Current Multi-Families: $589k (July was $569k)
YTD Median Sale Price for Multis: $460k (2022 median sale price was $420k)
The Waiting Game: Cost-Analysis for Buyers and Sellers
With interest rates on the minds of both buyers and sellers, here's the key question: What's the cost of waiting? Waiting for rates to decrease might seem appealing, but the influx of more buyers could propel prices even higher. While I can offer insights and walk you through the numbers, the ultimate decision is yours. I think this Fall will present a lot of opportunities for buyers while Spring 2024 is going to see a major uptick in prices if (when) rates go down because of buyer activity. It's an election year which is a strong indicator that rates will be lowered.
Homeowner Tip: Unleash Equity with a HELOC
If you purchased your home in 2020 or earlier, you likely possess substantial equity. Don't miss the chance to leverage this equity by considering a Home Equity Line of Credit (HELOC).
Home Buyer Tip: Secure Your Victory with a Lease Back Option
Buyers, have you heard about the Lease Back option? This strategy can be a win-win scenario for you and the seller, offering flexibility and mutual benefits.
Looking for CT or MA data—I can provide that, just reach out!